AN EMBLEMATIC SPACE
IN THE HEART
OF MEXICO CITY
AN EMBLEMATIC SPACE
IN THE HEART
OF MEXICO CITY
AN EMBLEMATIC SPACE
IN THE HEART
OF MEXICO CITY
UN ESPACIO EMBLEMÁTICO
EN EL CORAZÓN
DE LA CIUDAD DE MÉXICO
AN EMBLEMATIC SPACE
IN THE HEART
OF MEXICO CITY
AN EMBLEMATIC SPACE
IN THE HEART
OF MEXICO CITY
AN EMBLEMATIC SPACE
IN THE HEART
OF MEXICO CITY

EACH CORNER OF THE HOTEL HAS ITS OWN STORY
The Antiguo Molino de San Jerónimo holds a rich historical legacy, intertwined with notable figures and significant events. Its owners can trace their ancestral connection back to Nezahualcoyotl, Nezahualpilli, Ixtlilxochitl the Elder, and Ixtlilxochitl II, who was the last king of Xochicalco. This connection reflects the deep roots of the property and its association with indigenous history and culture.
Moreover, the hotel proudly boasts a family tie to Leona Vicario, a prominent figure in Mexican history. Leona Vicario is revered as a Meritorious and Sweet Mother of the Nation, recognized for her unwavering patriotism and contributions to the country's struggle for independence. Her husband, Andrés Quintana Roo, was a heroic insurgent during this critical period, actively participating in the fight for Mexico's freedom. In honor of his remarkable endeavors, a state in the Mexican republic is named after him.

In the blueprints displayed at the entrance of the building, according to an exhibition held in 2017 at the Palacio de Bellas Artes, it can be observed that the Antiguo Molino de San Jerónimo was already a mill since the early days of colonization. It was referred to as the "San Geronimo" mill.
In 1882, Agustín Gómez Chávez, husband of Concepción Salazar López de Santa Anna, purchased the mill. Following his death, his widow inherited his properties. However, due to financial difficulties, they were forced to sell most of the properties, keeping only three of them.

In the 1990s, María Teresa Figueroa Gallo, the great-granddaughter of Agustín and Concepción, along with the initiative of her husband Alejandro Álvarez Guerrero, reclaimed the remaining family properties, specifically San Jerónimo 33 and 35. Subsequently, in the 2010s, she gifted these properties to her son, who decided to undertake the renovation of both buildings.
The restoration of the Antiguo Molino de San Jerónimo was completed in October 2018.
The hotel's halls showcase a collection of photographs from the national photography archive, accompanied by an explanation of the significance of the "Rojo Mexicano Grana Cochinilla" (Mexican Red Cochineal). This exhibition highlights the historical and cultural importance of this vibrant red dye.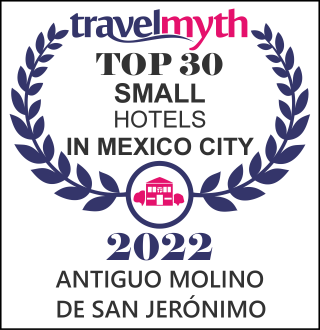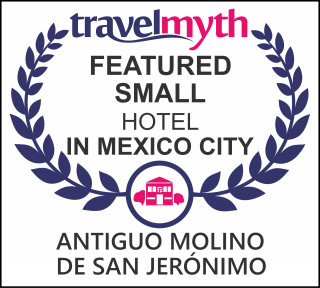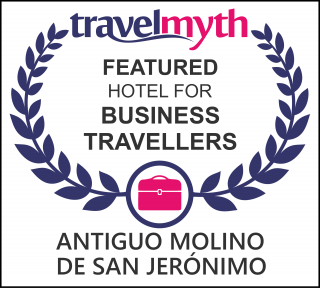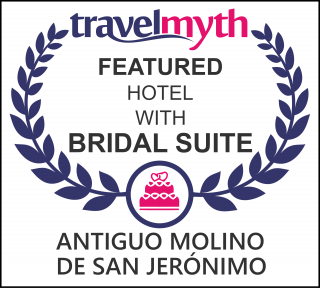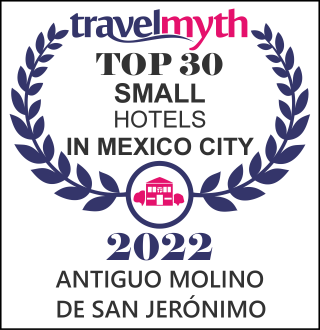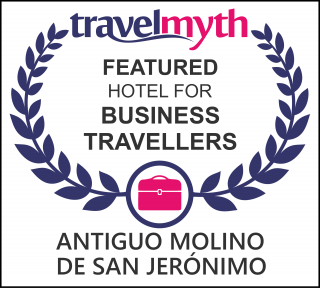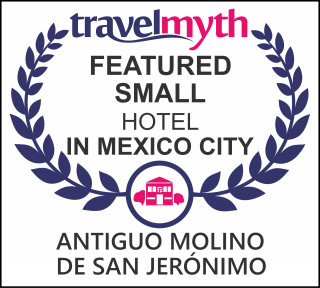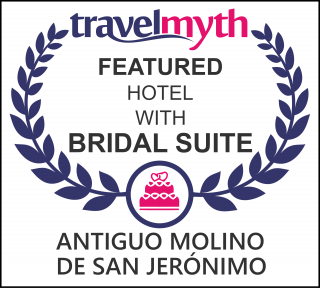 The Antiguo Molino de San Jerónimo has deep historical roots,
linked to royalty like Ixtlilxochitl II and patriot Leona Vicario,
who fought for Mexico's independence.
© 2023 All rights reserved. Hotel Boutique Antiguo Molino de San Jerónimo.